How do you organize your stash? Do you stalk
Pinterest
and the magazine stands looking for the best ideas? Do you pour over every issue of
Where Women Create
? We do.
Whether you are a paper crafter, seamstress, knitter, or painter, how to store your wares is a never ending task - unless you are independently wealthy and can buy/build whatever you want/need hehe
Now let me preface this whole post by saying that everything I have purchased has been over a period of months, not all in one day, week or month. We gotta keep this budget friendly right?
I used to have a monstrous hutch style desk
thing
. When I first got it, it held quite a bit. But as my
hoarding
stash increased, I ran out of room and things ended out piled on the desktop. This led to me being frustrated, not a whole lotta crafting getting done, and what my husband fondly refers to as "the fungus." I was spread out into other rooms to craft. So
once he had finally had enough of that
once I convinced him I needed new storage solutions, I did some internet window shopping on
My Pinterest
.
We have all seen some of the AMAZING craft rooms out there. The ones with chandeliers, custom built ins, work islands, cozy seating areas. Who wouldn't Love to have something like that?! We here in the real world usually have to be a little more practical though. Huge Bummer, I know.
My craft room, studio, creative space - whatever you want to call it - is approximately 13'x13' with a huge
kiva
(beehive shaped New Mexican fireplace) in one corner, a picture window, a set of opening windows and 1 non operational window. Not a lot of wall space, and the wall space that is there is mostly unusable because our home is
adobe
(aka mud). Oh and did I mention this space is also the play room for the kids? So its not just me in here, and one of our littles is too young to let near my stuff so a massive
baby wall
divides the room.
The problems of a white girl, huh? hehe
Being realistic, and not wanting to spend a small fortune, I decided on
these industrial use free standing shelves from Lowes
and added casters - because let's face it, if you know me
at all,
you
know
I'm gonna move those suckers a million times. Hey its cheaper to rearrange than buy new, right?!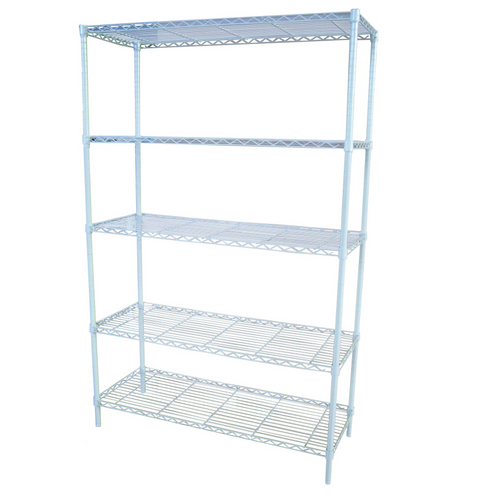 I chose the 18" depth because I wanted to be able to use the shelves at desk height as more of a work surface - such as for my
Cricut
and
BigKick
, a space for a printer. And I use one shelf to house all of the kid craft supplies - to keep them out of the littlest's hands. They aren't the
EXPEDIT from IKEA
that I long for, but I don't have an IKEA anywhere nearby and these work just fine. I haven't yet but I plan to back them with a pretty fabric to add some color to this room - you can't paint adobe (well you can but its more hassle than its worth and isn't good for resale. insert sad face here.) We originally only bought 1 - what the crap was I thinking?! Did I honestly think for one second that ALL of my stash was gonna fit onto 1 shelving unit?! LOL yeah right!
To store everything I bought containers because the slats of the shelves make it inconvenient for paper goods. I like to sort my stuff by type.
I bought (over time, and ALWAYS on sale) black storage boxes in 2 sizes, standard photo size from Michaels and a size
larger
from Wal-Mart. Each box contains its own category
(1) Thickers (2) acrylic stamps (3) red rubber stamps (4) stamp pads and blocks (5) BigKick accessories (6) chipboard and alterables (7) adhesives (8) blank card bases and envies (9) finished cards (10) embellies for the current paper line I'm working with and (11) the catchall for random stuff.
I keep patterned paper in
Ziploc 2 gal bags
I found at Wal-mart for less than $5 for 10. I started by using the Close to my Heart bags but with shipping, tax and waiting to get them from the rep, I am
so glad
I found these. They are cheaper and readily available.
What about a work surface? I use an antique table my mother in law bought a long time ago, with a quilters cutting mat on top. I usually keep it with only 1 leaf in which makes it 43"x66", a fairly good size for me.
I store punches in
a 2 gal glass jar
from Wal-mart (in their kitchen area) Ribbon is wrapped on wooden clothespins and tossed into an old coffee cup style fish bowl. Tools are stored in
the Making Memories Carousel
or a small wire cutlery basket I found last year at Joanns.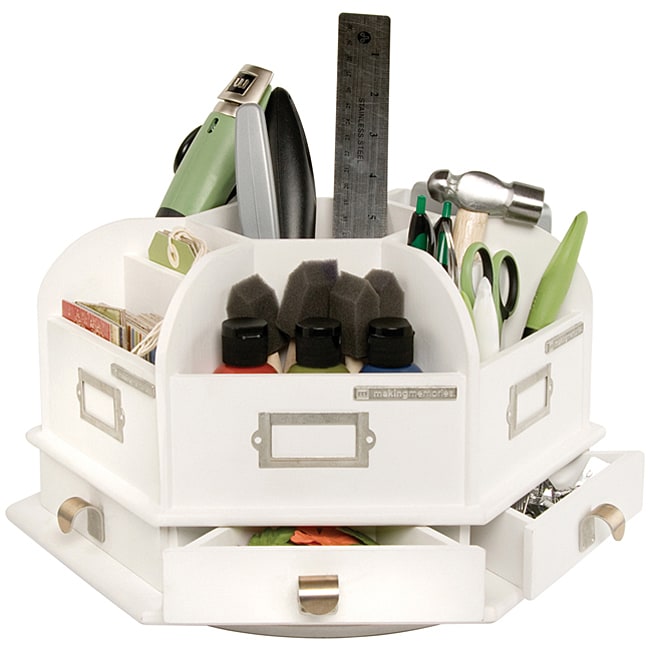 WOW! That's a whole lot for one post! So pictures of all of this in real life and more tips on how I have upcycled some things to get more storage, and what I have planned for the kids' side will be another post! After I clean up a bit wink